"Become an affiliate of 500 Scrapbooking Sketches today and earn a huge 50% commission on every sale!"
500 Scrapbooking Sketches is one of the hottest scrapbooking products on the
market and now you can earn big $$$ simply by referring people to us.
Here's how it works:
1. Set up an account with Clickbank.
Clickbank is the most trusted 3rd party affiliate program on the internet. They will track your sales so you can see how much money you are making. They will also send you your commissions. Payments are made twice a month (on the 1st and 16th of each month) and are always on time.
It takes about 1 minute to set up a Clickbank account and it is completely FREE.
2. Create your hoplink
Your hoplink should look like this:
http://YOURNICKNAME.500ss.hop.clickbank.net
where YOURNICKNAME is your unique user ID.
3. Join our affiliates newsletter for lots of useful tips and information to help you maximise your sales.
There are many different ways to promote your hoplink. Make sure you keep an eye on our newsletter for lots of new ways to drive traffic through your link and ultimately earn you money. But in the meantime, here are a few resources to help get you started:
RESOURCES
1. Text Link:
Place this code on your website to link to us with your affiliate link. It will produce the link you see below.
2. Graphic Links:
(a) Small Book: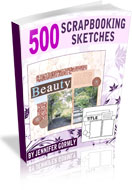 Get Your 500 Scrapbooking
Sketches Now... Click here!
Copy / Paste this code into the HTML of your website to display this Image
(b) Large Book: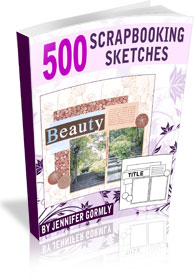 Get Your 500 Scrapbooking
Sketches Now... Click here!
Copy / Paste this code into the HTML of your website to display this Image
(c) Banner:

Copy / Paste this code into the HTML of your website to display this Image
Privacy Policy Terms Of Use 500 Scrapbooking Sketches Contact Me
Copyright 2008-23 Jennifer Gormly 500 Scrapbooking Sketches